---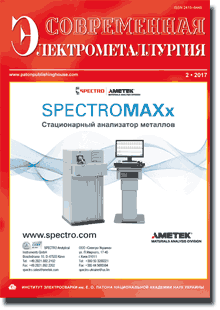 Electrometallurgy today, 2017, #2, 17-20 pages
Melting of ingots of Ti–Nb–Si–Zr system titanium alloys by the method of electron beam melting
N.I. Grechanyuk
1
, L.D. Kulak
1
, N.N. Kuzmenko
1
, Yu.O. Smashnyuk
2
, A.V. Demchishin
1
, A.E. Fisk
1
1
I.M. Frantsevich Institute of Problems of Materials Science of the NAS of Ukraine. 3, Krzhizhanovsky str., Kiev-142, 03680. E-mail:dir.@ipms.kiev.ua
2
R&P enterprise «Eltehmash». 25 Vatutin str., Vinnitsa, 21011. E-mail:vin25ebt@ukr.net
Technological peculiarities of producing complexly-alloyed alloys of Ti-Nb-Si-Z system of medical purposes are considered. The feasibility of formation of ingots of titanium-based alloys within the relatively narrow ranges of concentrations of alloying components, wt.%: 11…13 Nb; 0.9…1.1 Si; 1.9…2.2 Zr is shown. Structure, phase composition and mechanical properties of mentioned materials in cast state were studied. Ref. 4, Tables 2, Figures 3.
Keywords:
electron beam melting; medicine; titanium alloy; niobium; zirconium; silicon
References
1. Fisk Andrewe et al. (2014) Titanium based ceramic reinforced alloy for use in medical implants. Pat. US 20140 105781 A1.
2. Ladokhin S. V., Levitsky N. I., Lapshuk T. V. i dr. (2015) Primeneniye elektronno-luchevoy plavki dlya polucheniya izdely meditsinskogo naznacheniya. Metall i litye Ukrainy, 4, 7–11. [in Russian].
3. Niinomi M. (2008) Mechanical biocompatibility of titanium alloys for biomedical application. J. Mech. Behav. Biomed. Mater., 1, 30–42.
https://doi.org/10.1016/j.jmbbm.2007.07.001
4. Anselme K., Noel В., Hardouin P. (1999) human osteoblast adhesion on titanium alloy, stainless steel, glass and plastic substrates with same surface topography. J. Mater. Sci. Mater. Med., 10, № 12, 815–819.