---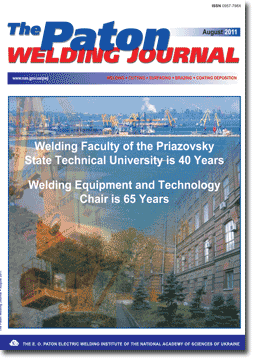 TPWJ, 2011, #8, 22-26 pages
ADMISSIBLE PRESSURE FOR FILLER OF SEALED SLEEVES USED TO REPAIR MAIN PIPELINES
Journal                    The Paton Welding Journal
Publisher                 International Association «Welding»
ISSN                       0957-798X (print)
Issue                       № 8, 2011 (August)
Pages                      22-26
Authors
V.I. MAKHNENKO, E.A. VELIKOIVANENKO, A.S. MILENIN, O.I. OLEJNIK, G.F. ROZYNKA and N.I. PIVTORAK
E.O. Paton Electric Welding Institute, NASU, Kiev, Ukraine
Abstract
Main variants of strengthening of thinning of pipeline walls by installing a sealed sleeve are considered. It is shown that the variant of the repair technology involving a sleeve structure with a liquid agent filling the gap between the pipe walls and sleeve requires a detailed substantiation, allowing for properties of the filler during polymerisation, as well as corresponding estimation of the load-carrying capacity of the welds.
Keywords:
 repair of active pipelines, sealed sleeves, slot welds, volumetric changes during polymerisation
Received:                ??.??.??
Published:               28.08.11
References
1. (2000) Fitness-for-service: Recommended practice 579. American Petroleum Institute.
2. (2006) Updated pipeline repair manual. Revision by Edison Welding Institute.
3. But, V.S., Marchuk, Ya.S., Podolyan, O.P. et al. Method for repair of defective section of active pipeline. Pat. 77931 Ukraine. Int. Cl. F 16 L 55/16, B 23 K 31/02. Publ. 15.01.2007.
4. Makhnenko, V.I. (2006) Residual safe life of welded joints and assemblies in current structures. Kiev: Naukova Dumka.
5. Zarelli, V., Skordos, A.A., Partridge, I.K. (2000) Investigation of cure induced shrinkage in unreinforced epoxy resin. Plastics, Rubber and Composites Processing and Application, 31, 377-384.