---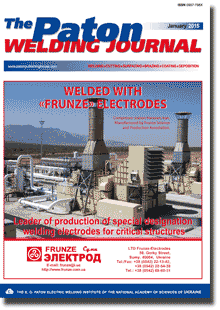 TPWJ, 2015, #1, 11-17 pages
COMPARATIVE EVALUATION OF POWER AND TECHNOLOGICAL CHARACTERISTICS IN CONTINUOUS FLASH-BUTT WELDING OF THICK-WALLED PARTS AT DIRECT AND ALTERNATING CURRENT
Journal                    The Paton Welding Journal
Publisher                 International Association «Welding»
ISSN                       0957-798X (print)
Issue                       № 1, 2015 (January)
Pages                      11-17
Authors
S.I. Kuchuk-Yatsenko, P.M. Rudenko, V.S. Gavrish And K.V. Gushchin
E.O. Paton Electric Welding Institute, NASU. 11 Bozhenko Str., 03680, Kiev, Ukraine. E-mail: office@paton.kiev.ua
Abstract
In the recent years the DC sources are widely applied in the equipment for flash-butt welding. At the same time there is a positive experience in AC application in such equipment. The aim of the present work consisted in comparative evaluation of power and technological characteristics of welding processes in using two power sources. The flash-butt welding of low-alloy steel plates of 25 mm thickness using continuous flashing was performed using AC and DC power sources. The influence of high-frequency pulsations of voltage in DC welding on reactance of welding circuit, conductivity of diodes of rectifier and stability of flashing process was studied. The phenomenon of overvoltages as a result of transition processes in welding circuit in flashing was explained. It was shown that at the same heating of specimens the consumption of electric power in DC welding is 15 % higher than at alternating one. The macrorelief of flashing surface in DC welding is better by its quality than that at alternating one. 4 Ref., 1 Table, 10 Figures.
Keywords:
flash-butt welding, continuous flashing, direct current, alternating current, power parameters, high-frequency pulsations, technological characteristics
Received:                22.10.14
Published:               28.02.15
References
1. Kuchuk-Yatsenko, S.I., Nejlo, Yu.S., Gavrish, V.S. et al. (2010) Prospects of increasing energy characteristics of flash butt welding (Review). The Paton Welding J., 2, 23-27.
2. Kuchuk-Yatsenko, S.I. (1992) Flash butt welding. Kiev: Naukova Dumka.
3. Kuchuk-Yatsenko, S.I., Rudenko, P.M., Gavrish, V.S. et al. (2010) Energy characteristics of the processes of flash-butt welding at alternating at direct currents. The Paton Welding J., 12, 22-26.
4. Sidyakin, V.A., Orlov, B.D. (1969) Flash-butt welding of thin-walled parts at direct current. Svarochn. Proizvodstvo, 9, 22-24.