---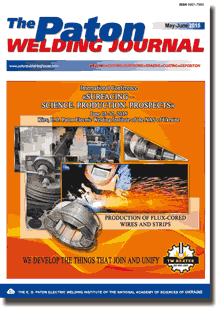 TPWJ, 2015, #5-6, 30-33 pages
Electroslag surfacing using discrete materials of different methods of manufacture
Journal                    The Paton Welding Journal
Publisher                 International Association «Welding»
ISSN                      0957-798X (print)
Issue                       № 5/6, 2015 (May/June)
Pages                      30-33
Authors
Yu.M. Kuskov, G.N. Gordan, I.L. Bogajchuk And T.V. Kajda
E.O. Paton Electric Welding Institute, NASU. 11 Bozhenko Str., 03680, Kiev, Ukraine. E-mail: office@paton.kiev.ua
Abstract
Work studies the possibility of application of waste products forming at shot production as discrete filler material in addition to shot of optimum factional composition. It is determined that surfacing by shot from high-chromium cast iron virtually has no difference on surfacing using tablets formed by powder metallurgy from shot production wastes. Metal, deposited by shot, is characterized by finer structure of structural constituents and lower quantity of austenite. Identity of surfacing results, apparently, can be achieved during optimizing the technology of tablet production, their sizes and mass rate of feeding in slag pool. 4 Ref., 2 Tables, 6 Figures.
Keywords:
electroslag surfacing, current-carrying mold, shot, tablets, microstructure of deposited metal
Received:                20.03.15
Published:               28.07.15
References
1. Kuskov, Yu.M. (2013) Electroslag surfacing in sectional current-carrying mould. Svarshchik, 3, 21-23.
2. Kuskov, Yu.M., Skorokhodov, V.N., Ryabtsev, I.A. et al. (2001) Electroslag surfacing. Moscow: Nauka i Tekhnologii.
3. Ksyondzyk, G.V., Frumin, I.I., Kuskov, Yu.M. (1977) Electroslag surfacing with grain filler material. In: Theoretical and technological principles of surfacing, 89-95. Ed. by I.I. Frumin. Kiev: PWI.
4. Zatulowsky, S.S., Mudruk, L.A. (1988) Production and application of metal shot. Moscow: Metallurgiya.