---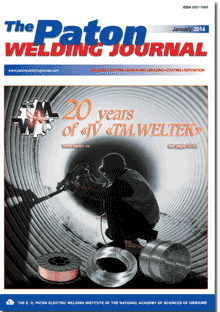 TPWJ, 2014, #1, 25-29 pages
IMPROVEMENT OF POWER EFFICIENCY OF MACHINES FOR RESISTANCE SPOT WELDING BY LONGITUDINAL COMPENSATION OF REACTIVE POWER
Journal                    The Paton Welding Journal
Publisher                 International Association «Welding»
ISSN                      0957-798X (print)
Issue                       № 1, 2014 (January)
Pages                      25-29
Authors
A.A. PISMENNY
E.O. Paton Electric Welding Institute, NASU. 11 Bozhenko Str., 03680, Kiev, Ukraine. E-mail: office@paton.kiev.ua
Abstract
Considered is the operation of supply system of a single-phase machine for resistance spot welding (RSW) with introducing of scheme of longitudinal compensation of reactive power into the primary circuit of welding transformer. Machines for RSW are characterized by a high consumed power, the significant part of which is a reactive component. This leads to increase in general installed power of working regions and asymmetry of loading phases of supply distribution three-phase mains. It is shown in the work that system with a longitudinal compensator is well interacted with a standard thyristor controller of power of machine and allows keeping a high value of power factor within the range of phase control up to 60°. The application of longitudinal compensation gives technological advantages of spot welding, as the power factor of machine with a compensator depends little on the resistance of welding contact. Therefore the welding of metals in the wide range of specific resistances is possible: from low-carbon steels up to some light alloys and metals with protective coatings. Low cost of additional equipping of existing machines with longitudinal compensator with a simultaneous improvement of their technological properties makes the method of longitudinal compensation challenging for industrial application. 7 Ref., 1 Table, 4 Figures.
Keywords:
resistance spot welding, power system, compensation of reactive power, power factor
Received:                27.03.13
Published:               28.01.14
References
1. Lebedev, V.K., Pismenny, A.A. (2001) Power systems of resistance welding machines. The Paton Welding J., 11, 28-32.
2. Lebedev, V.K., Pismenny, A.A. (2003) Power system of flash-butt welding machines with a transistor inverter. Ibid., 2, 10-12.
3. Zorin, V.V. (1960) Compensation of reactive power of resistance machines by series capacitors. Avtomatich. Svarka, 6, 28-36.
4. Glebov, L.V., Filippov, Yu.I., Chuloshnikov, P.L. (1987) Structure and operation of resistance machines. Leningrad: Energoatomizdat.
5. Paton, B.E., Lebedev, V.K. (1969) Electric equipment for resistance welding. Moscow: Mashinostroenie, 59, 302, 342.
6. Pismenny, A.A. (2008) Increase in efficiency of supply systems of resistance spot welding machines: Syn. of Thesis for Cand. of Techn. Sci. Degree. Kiev.
7. Koubek, P. (2006) Energeticke aspekty pouzivania zvaracich strojov s trojfazovym napajanim. Zvaranie-Svarovani, 10, 288-292.