---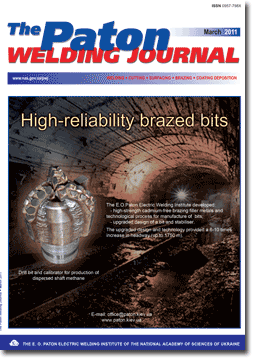 TPWJ, 2011, #3, 22-25 pages
DEVELOPMENT OF A PROCEDURE FOR SELECTION OF PARAMETERS OF STRIP ELECTRODE SURFACING WITH MECHANICAL FORCED TRANSFER OF LIQUID METAL
Journal                    The Paton Welding Journal
Publisher                 International Association «Welding»
ISSN                       0957-798X (print)
Issue                       ¹ 3, 2011 (March)
Pages                      22-25
Authors
B.I. NOSOVSKY and E.V. LAVROVA
Priasovsky State Technical University, Mariupol, Ukraine
Abstract
A procedure and equipment for investigation of the process of strip electrode melting by an arc and scheme of selection of surfacing parameter with forced transfer of electrode metal have been developed.
Keywords:
 surfacing, power source, mechanical forced transfer, strip electrode, deposited layer, quality
Received:                ??.??.??
Published:               28.03.11
References
1. Gulakov, S.V., Matvienko, V.N., Nosovsky, B.I. (2006) Submerged-arc surfacing with strip electrode. Mariupol: PGTU.
2. Lebedev, V.A. (2003) Special features of designing mechanisms of pulsed feed of electrode wire in welding equipment. The Paton Welding J., 3, 39-43.
3. Lebedev, V.A. (2010) Tendencies in development of mechanized welding with controlled transfer of electrode metal (Review). Ibid., 10, 37-44.
4. Voropaj, N.N., Benidze, Z.D. (1989) Specifics of CO
2
 welding process with pulsed feed of electrode wire. Avtomatich. Svarka, 2, 23.
5. Nosovsky, M.B. Metal arc welding. Pat. 24440 Ukraine. Int. Cl. 7 B 23 K 9/12, C2.