---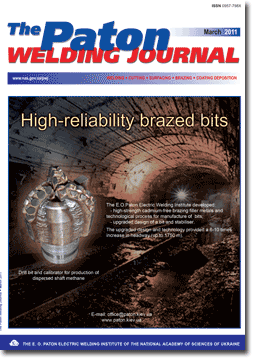 TPWJ, 2011, #3, 26-28 pages
CONTROL OF ARC IGNITION DURING EXCITATION OF ELECTROSLAG PROCESS
Journal                    The Paton Welding Journal
Publisher                 International Association «Welding»
ISSN                       0957-798X (print), ?????? (online)
Issue                       ¹ 3, 2011 (March)
Pages                      26-28
AuthorsYu.N. LANKIN, A.A. MOSKALENKO, V.G. TYUKALOV and V.F. SEMIKIN
E.O. Paton Electric Welding Institute, NASU, Kiev, Ukraine
Abstract
Control of the electric arc ignition process for inducing the slag pool for ESW is described. Algorithm of contact ignition of the arc from the first touch of a workpiece by wire electrode is given. The sharpened electrode tip and feeding of voltage from the power source to the fixed-electrode short-circuited to the workpiece are decisive conditions for reliable ignition of the arc. To transfer to the steady-state process, the electrode feed should be switched on with a lag after the arc ignition. Experimental data on the arc ignition are given.
Keywords:
 electroslag welding, ignition of welding arc, induction of slag pool, ignition control
Received:                ??.??.??
Published:               28.03.11
References
1. Paton, B.E., Medovar, B.I., Safonnikov, A.N. et al. (1972) New method of electroslag welding. Svarochn. Proizvodstvo, 7, 16-17.
2. (1980) Electroslag welding and cladding. Ed. by B.E. Paton. Moscow: Mashinostroenie.
3. Kavcic, A. (1987) Vzig obloka pri varjenju pod praskom. Varilna Tehn., 3, 61-62.
4. Striz, D., Kucek, L. (1989) Zapal'ovanie obluka pri zvarani pod tavivom. Zvaranie, 3, 92-93.
5. Sushchuk-Slyusarenko, I.I., Lychko, I.I. (1974) Electroslag welding technique. Kiev: Naukova Dumka.
6. Lenivkin, V.A., Klenov, G.G., Sagirov, Kh.N. et al. (1986) Arc ignition in arc metal electrode (Review). Avtomatich. Svarka, 2, 30-34.
7. Morozkin, I.S. (2003) Arc ignition control in mechanized processes of welding. Rostov-na-Donu: Rostov GUPS.
8. Lenivkin, V.A., Sagirov, Kh.N., Doktorsky, R.Ya. (1982) Establishment (excitation) of the arc metal welding. Svarochn. Proizvodstvo, 8, 9-11.
9. Ersoy, U., Hu, S.J., Kannatey, E. (2008) Observation of arc instability and spatter generation in GMAW. Welding J., 2, 51-56.
10. Zhu, P., Rados, M., Simpson, S.W. (1977) Theoretical prediction of the start-up phase in GMA welding. Ibid., 7, 269-274.
11. Farson, D., Courardy, C., Talkington, J. et al. (1998) Arc initiation in gas metal arc welding. Ibid., 8, 315-321.
12. Paton, B.E., Chvertko, A.I., Ivanov, G.P. et al. Device for automatic arc ignition in electric arc metal welding. USSR author's cert. 408729. Int. Cl. B 23 K 9/6. Appl. 11.10.71. Publ. 1973.
13. Chvertko, A.I., Ivanov, G.P., Porkhun, B.V. (1973) New method of arc ignition in submerged-arc welding. Avtomatich. Svarka, 4, 44-45.
14. Dilthey, U., Eichhorn, F., Groten, G. et al. (1990) Lowspatter ignition of the mig-welding arc. IIW Doc. XII-1181-90.