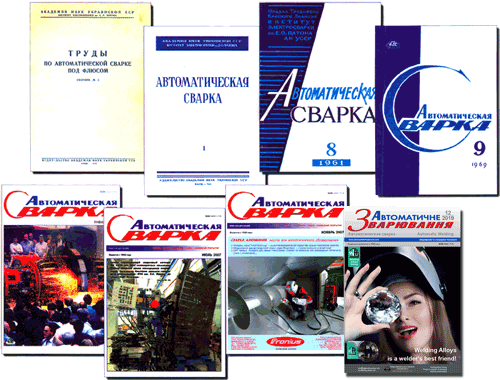 Journal "AVTOMATICHESKAYA SVARKA"
Monthly scientific-technical and production journal.
ISSN: 0005-111X, Since 1948.
Subscription price: USD 156, postage included, effective 2011.
Russian version of «The PATON Welding Journal»
Text in Russian, contents and summaries in English.
The Journal presents a wide range of scientific-technical and promotion information in the field of technologies, equipment and materials for welding, surfacing, brazing, and deposition of protective coatings.
It publishes abstracts of books coming out of the press, information on exhibition, conferences and defended thesis and also the date bank on «Who Is Who in Welding Industry of CIS Countries».
Magazine "AVTOMATICHESKAYA SVARKA":
presented in «Google Ssholar" (USA), author (Russia);
refereed journals "Dgerelo (Spring)" (Ukraine), "Welding" (Russia), «Welding Abstracts» (Great Britain);
indexed in «Biuletyn Instytutu Spawalnistwa w Gliwicach» (Poland) and «Rivista Italiana della Saldatura» (Italy);
covered in the review of the Japanese magazine «Journal of Light Metal Welding», «Journal of the Japan Welding Society», «Quarterly Journal of the Japan Welding Society», «Journal of Japan Institute of Metals», «Welding Technology ».
Back to...
---