---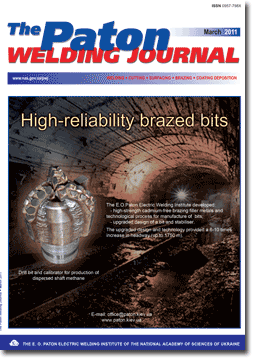 TPWJ, 2011, #3, 2-6 pages
DIFFUSION BONDING OF γ-TiAl BASE ALLOY IN VACUUM BY USING NANOLAYERED INTERLAYERS
Journal                    The Paton Welding Journal
Publisher                 International Association «Welding»
ISSN                       0957-798X (print)
Issue                       ¹ 3, 2011 (March)
Pages                      2-6
Authors
G.K. KHARCHENKO, A.I. USTINOV, Yu.V. FALCHENKO, A.N. MURAVEJNIK, T.V. MELNICHENKO and L.V. PETRUSHINETS
E.O. Paton Electric Welding Institute, NASU, Kiev, Ukraine
Abstract
The effect of nanolayered interlayers Ti/Al, Ni/Ti and Ni/Al on structure of the diffusion bonds made in vacuum on γ-TiAl base alloy was studied. It is shown that when using the nanolayered interlayers of a composition differing from that of the base alloy it is necessary to conduct homogenising annealing to lower the degree of chemical heterogeneity in the bonding zone.
Keywords:
 diffusion bonding in vacuum, intermetallic titanium-aluminium alloy based on γ-TiAl, nanolayered interlayer, homogenising annealing, joint, heterogeneity, structure, microhardness
Received:                ??.??.??
Published:               28.03.11
References
1.
Duarte, L.I., Ramos, A.S., Vieira, M.F. et al.
(2006) Solidstate diffusion bonding of γ-TiAl alloys using Ti/Al thin films as interlayers. Intermetallics, 14, 1151-1156.
2.
Ramos, A.S., Vieira, M.T., Duarte, L.I. et al.
(2006) Nanometric multilayers: a new approach for joining TiAl. Ibid., 1157-1162.
3.
Ustinov, A.I., Falchenko, Yu.V., Ishchenko, A.Ya.
et al. (2009) Producing permanent joints of γ-TiAl based alloys using nanolayered Ti/Al interlayer by vacuum diffusion welding. The Paton Welding J., 1, 12-15.
4.
Ustinov, A.I., Olikhovskaya, L.A., Polishchuk, S.S.
(2006) Metastable nanostructural states in coatings of Ni-Al, made by vapor phase deposition. Metallofizika i Nov. Tekhnologii, 6, 32-37.
5.
Ustinov, A.I., Olikhovskaya, L.A., Melnichenko, T.V.
et al. (2008) Solid-phase reactions in heating of multilayer foils Al/Ti made by electron-beam deposition method. Sovremen. Elektrometallurgiya, 2, 21-28.
6.
Romankov, S.E., Volkova, T.V., Melikhov, V.D.
(2002) Phase-structural transformations of alloy Ti-48 % Al-2 % Nb in artificial ageing. Fizika Metallov i Metallovedenie, 93(4), 50-61.
7.
Kharchenko, G.K., Mazanko, V.F., Ustinov, A.I.
et al. (2009) Studies of diffusion processes in welded joints of titanium aluminide (TiAl). Visnyk Ch. DTI. Series Tekhn. Nauky, 37, 117-119.