---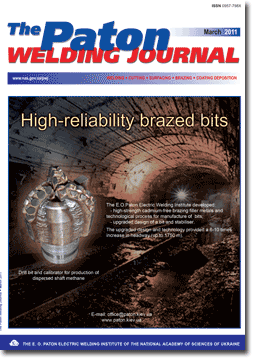 TPWJ, 2011, #3, 13-15 pages
PECULIARITIES OF INTERGRANULAR MASS TRANSFER OF GALLIUM IN ALUMINIUM ALLOY DURING SOLID PHASE ACTIVATION OF SURFACES BEING JOINED
Journal                    The Paton Welding Journal
Publisher                 International Association «Welding»
ISSN                       0957-798X (print)
Issue                       ¹ 3, 2011 (March)
Pages                      13-15
Authors
Yu.A. KHOKHLOVA, V.E. FEDORCHUK and M.A. KHOKHLOV
E.O. Paton Electric Welding Institute, NASU, Kiev, Ukraine
Abstract
Peculiarities of formation of a dissimilar aluminium-steel diffusion joint in solid-state activation of the surfaces, being joined, by gallium are considered. The effect of products of gallium-aluminium interaction on a local change in mechanical properties within the zone of a permanent joint is shown.
Keywords:
 diffusion welding, aluminium, aluminium alloys, reactive diffusion joint, intergranular diffusion, gallium, low-temperature activation of diffusion, indention, Berkovich indenter
Received:                ??.??.??
Published:               28.03.11
References
1. Gab, I.I. (2008) Solid-phase brazing with pressure application. In: Inorganic materials science: Encyclopedia. Vol. 1, Book 2. Ed. by G.G. Gnesin, V.V. Skorokhod. Kiev: Naukova Dumka.
2. Ryabov, V.R., Ishchenko, A.Ya., Muravejnik, A.N. (1996) Current methods of welding of steel-aluminium pipes. Avtomatich. Svarka, 2, 32-42.
3. http://en.wikipedia.org/wiki/Ga
4. Tikhomirova, O.I., Pikunov, M.V. (1969) Influence of shape and size of second component particles on properties of gallium solders. Poroshk. Metallurgiya, 84(12), 51-56.
5. http://www.crct.polymtl.ca/FACT/phase_diagram.php?file=Al-Ga. jpg&dir=SGTE
6. Mondolfo, L.F. (1979) Structure and properties of aluminium alloys. Moscow: Metallurgiya.
7. Kholyavko, V.V. (2006) Formation of phase composition, structure and properties of quasi-crystalline alloys of Al-
Cu-Fe system in reaction diffusion of gallium: Syn. of Thesis for Cand. of Techn. Sci. Degree. Kiev.
8. Livanov, V.A. (1982) Action of gallium on aluminium and its alloys. Tekhnologiya Lyog. Splavov, 5, 30-32.
9. http://ru.wikipedia.org/wiki/Effect_Rebindera
10. Likhtman, V.I., Shchukin, E.D., Rebinder, P.A. (1962) Physico-chemical mechanics of metals. In: Adsorption phenomena in processes of deformation and fracture of metals. Moscow: AN SSSR.
11. Ishchenko, A.Ya., Khokhlova, Yu.A. (2009) Evaluation of mechanical properties of microstructural constituents of welded joints. The Paton Welding J., 1, 34-37.
12. Khokhlova, Yu.A., Khokhlov, M.A. (2009) Nanoscale effect in diffusion joints with gallium. In: Abstr. of Int. Conf. on Problems of Welding, Related Processes and Technologies (Nikolaev, 14-17 Oct. 2009). Nikolaev: NUK, 111.
13. Larikov, L.N., Franchuk, V.I., Maksimenko, E.A. (1991) Substructural strengthening in aluminium and its alloys interacting with gallium. Metallofizika, 13(10), 3-10.
14. Larikov, L.N., Maksimenko, E.A., Franchuk, V.I. (1990) Structural changes in aluminium and its alloys during embrittlement by liquid gallium. Ibid., 12(1), 115.
15. Franchuk, V.I., Larikov, L.N. (1992) Change of orientation of crystallites in near-surface layers of polycrystalline aluminium in diffusion interaction with gallium. Izvestiya RAN. Metally, 6, 105-110.
16. Larikov, L.N., Prokopenko, G.I., Franchuk, V.I. et al. (1990) Study of embrittlement of aluminium and AMg6 alloy in interaction with liquid gallium by acoustic emission method. Fiziko-Khimich. Mekhanika Materialov, 3, 5-9.
17. Larikov, L.N., Franchuk, V.I., Tikhonovich, V.V. et al. (1991) Diffusion-induced migration of grain boundaries in Al-Ga system. Metallofizika, 13(8), 56-62.